Lawyers for Liberty is a human rights and law reform initiative that seeks to challenge the many unconstitutional, arbitrary and unreasonable decisions and acts perpetrated by the government, its agencies and other public authorities.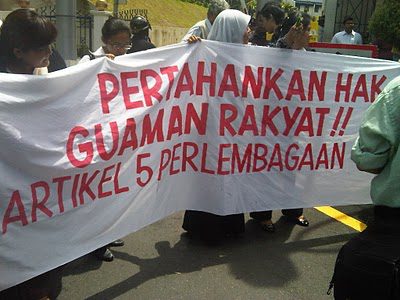 Many decisions and acts go unchallenged in or outside court, repeated and established as standard practice e.g. detention without trial, police shooting to kill or to prevent escape, torture, fabricating evidence, restricting public assemblies with threats, violence and arrests, impeding access to legal counsel once under arrest, obtaining unnecessary remand order, and prosecution for illegal assembly, public disorder, obstruction, sedition, printing without license, and under other illiberal and oppressive laws.
We will progressively monitor, document, advocate and embark on strategic, sustained and coordinated legal and non-legal challenges.
This initiative aims to:
protect and promote human rights
promote Constitutional reform, improve the legal and criminal justice system
access to justice
raise the standards in the conduct and policies of the Home Ministry and its agencies
The initiative aims to influence public policies, laws and human rights standards through the courts, in Parliament and in the wider civil society community including youth and community groups and NGOs. We will do this through a combination of:
public campaigning
test case litigation and intervention
parliamentary lobbying
independent policy analysis, briefing and research
trainings and events
By taking up public interest and human rights issues based on rights and international standards, the initiative will be pushing for innovative and progressive arguments that will test the mostly conservative state structures and agencies, raise questions on their independence, fairness and competence, and advocate for their reform. But be rest assured, we do not aim to be bogged down at the courts but will be active outside – at political, civil society, youth and community gatherings, forums and workshops, Parliament, police stations, the Home Ministry and the streets.
We are a collective of volunteer lawyers and activists who believe in the universality of human rights, the value of individual human dignity, and equal treatment and fairness as the foundation of a democratic and just society. We work with everyone and anyone can volunteer for this initiative – as long as you share our mission statement and in what we do. There is a lot to be done and we need all the volunteers we can get.