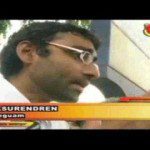 The lawyer for former airman N Tharmendran today brushed aside the Defence Ministry's justification for a group of military personnel who went looking for Tharmendran at his family's home in Seremban last month.
N Surendran, who is Tharmendran's lead counsel, said they are outraged that the ministry insists that the visit was normal procedure in seeking out military personnel who go absent without leave.
"It is not normal procedure for the armed forces to go to a civilian's house in search of a civilian. I don't understand how the air force insists he is still part of them," he said.
Surendran repeated that the air force is fully aware that Tharmendran's contract ended on May 28 this year, and he has stopped receiving his salary since June.
"To us it is very clear, the motive was to abduct him and shut him up after he made those allegations," he said, referring to Tharmendran's claims that he was tortured in connection with the theft of two RMAF jet engines.
Surendran (right) also denied that he had threatened the lead officer, sergeant Japar Sallen, of the group who went to Tharmendran's house last month, accusing the ministry of "interfering" with his duty in representing his client.
"I was doing my duty as a lawyer when I called the sergeant to tell him that my client is a civilian and there is no necessity for them to pick him up. In fact, I had a very amicable discussion with the sergeant," he said.
Tharmendran is scheduled to appear at the Shah Alam High Court tomorrow, in his bid to strike out his case on the grounds that it is an abuse of the court process and frivolous.
Tharmendran, along with company director K Rajandran Prasad, are jointly charged in connection with the theft of two jet engines in 2007.