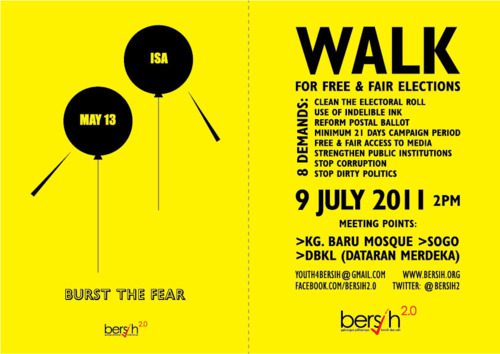 Nurul Izzah Anwar and three other PKR leaders are among those being investigated under the Sedition Act and Police Act.
KUALA LUMPUR: Three PKR leaders and a lawyer are being investigated under the Sedition Act in connection with the Bersih 2.0 rally scheduled for July 9.
PKR vice-presidents Nurul Izzah Anwar and N Surendran, the party's Subang MP R Sivarasa and Lawyers for Liberty coordinator Fadiah Nadwa Fikri's had their statements recorded at the Dang Wangi police headquarters today.
Speaking at a press conference later, Nurul said the four were being probed under the Sedition Act and Police Act for attending the Bersih rally launch on June 23.
She added that it was obvious from the line of questioning that the police had taken a stand against Bersih
"We are here to assist the police in their investigation but the line of questioning was similar to what Utusan Malaysia had reported against Bersih today," she said.
The Umno-owned daily alleged that communist elements had infiltrated Bersih and questioned the funders behind the July 9 rally.
Urging the police to remain neutral, Nurul reminded the authorities that even Suhakam had declared that the right to assemble peacefully was enshrined in the Federal Constitution.
Echoing Nurul's views, her counsel Latheefa Koya said the questions posed to Nurul were not investigative in nature.
"One of the question was, 'are there no other polite ways to voice out your concerns?' And they also asked who was sponsoring Bersih. I urge the police not be influenced by Umno," she added.
'Police trying to create a ruckus'
Meanwhile, Fadiah said apart from being investigated for attending the Bersih launch, she was also grilled for being present by Bersih 2.0 chairperson S Ambiga's side when the latter made a police report over a death threat she received last week.
The lawyer also criticised the Umno leadership for insinuating that the Bersih rally would cause chaos in the country.
She also claimed that it was the police that was trying to a create a ruckus.
"Thousands of Indonesians marched peacefully in the recent Labour Day parade. Why is it only in Malaysia, the government says rallies can cause chaos?" she asked.
Yesterday, the police had also recorded statements from Ambiga and national laureate A Samad Ismail. Likewise, the police also recorded statement from Perkasa chairman Ibrahim Ali who plans to hold a counter rally against Bersih on July 9.
In a related development, Federal Territories Barisan Nasional women's chief Azizah Abdul Samad lodged a police report at Dang Wangi over the Bersih rally.
She advised youths not to attend the Bersih rally, saying Ambiga had a hidden agenda.
"We are a peaceful multiracial nation. I urge parents to advise their children not to join the rally," she said.
By G Vinod | June 28, 2011
www.malaysiatoday.com