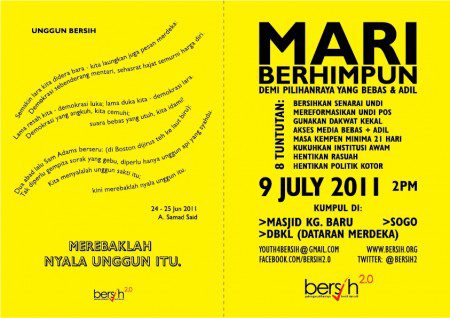 Legal experts say the 30 PSM activisits were detained according to an extreme interpretation of the law that has been taken out of context.
PETALING JAYA: Detaining 30 Parti Sosialis Malaysia (PSM) activists for allegedly waging war against the Yang di-Pertuan Agong is an extreme interpretation of the law and has been taken out of context, legal experts said.
They said the intepretation of Section 122 of the Penal Code was done in "bad faith".
Lawyers for Liberty's Eric Paulsen told FMT: "The authorities have interpreted the law in an extreme view. They have taken the facts out of context."
"To draw the conclusion that merely being in possession of these merchandise is equivalent to waging war against the King is a blatant misuse of power," he said.
He was commenting on the arrests of the 30 PSM members, including Sungai Siput MP Dr Michael Jeyakumar Devaraj, in Penang yesterday morning.
They were detained during the party's "Udahla tu…Bersarala" (Enough already – Retire now) campaign.
Thirty of them have been remanded for seven days by the Butterworth magistrate's court while 16-year-old S Ragu has been released unconditionally.
Police have also seized various items related to the Malayan Communist Party (MCP).
They were detained under four charges – illegal assembly, sedition, publishing pamphlets and leaflets against the Printing and Publications Act, and allegedly waging war against the King (under Section 122).
Section 122 of the Penal Code reads: "Whoever collects or attempts to collect men, arms or ammunition, or otherwise prepares to wage war with the intention of either waging or being prepared to wage war against the Yang di-Pertuan Agong or any of the Rulers or the Yang di-Pertua Negeri or abets the waging or the preparation of such war, shall be punished with imprisonment for life or imprisonment for a term not exceeding 20 years, and shall also be liable to a fine."
Paulsen said that the charge under Section 122 does not hold water because possession of literature and T-shirts concerning communism is not an offence in itself but is part of freedom of expression and speech.
He added that on legal grounds, the detention should not have happened in the first place.
"The facts show… there were no plans to wage war against the King. PSM is a registered party whose literature is widely available," he said, adding that the current literature does not differ much from the party's previous one.
However, he said that fate of the 30 was uncertain due to the biased legal system.
"They could be detained for a further seven days (technically they can be remanded for a maximum of 14 days).
"The police could say that they would want to investigate them for another allegation. Technically, this is possible because unfortunately we have an unfair judiciary system," he said.
Scare technique
Bar Council's Andrew Khoo said that technically anyone could be detained if there was proof that they had committed an offence according to specific elements in a section. However, in this case he was questioning the absence of the element of violence.
"Where is the evidence for that (waging war)? When I read it I was absolutely flabbergasted. There is no indication of violence, of waging war (in the action of the PSM activists)," said Khoo, who is Human Rights Committee chairman of the Bar Council.
"I guess you could say that PSM was 'gathering people' to vote against government's policies. But to remand them under Section 122, their action must be seen in context.
"PSM was not gathering people to wage an armed conflict. Where is that element of violence?" he said, adding that the 30 have yet to be charged officially under the Section 122.
Khoo believed this was merely a police scare technique to deter people from participating in any of the three rallies planed for July 9.
Earlier today, PSM labelled the government's efforts to link the party with communism based merely on T-shirts and other merchandise as "hilarious".
They also said that the images of communist and socialist leaders such as Rashid Maidin, Chin Peng, and Che Guevara on merchandises such as T-shirts were common where people wore them without knowing their significance.
Tarani Palani | June 27, 2011, Free Malaysia Today.com