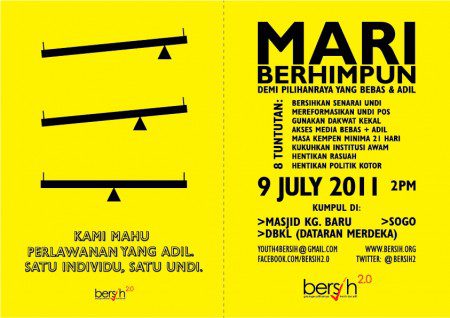 LFL RANTINGS:
Are we really surprised that Penang High Court judge Zamani agreed with the DPP and police that the PSM activists should
be investigated for "preparing to wage war" under section 122 of the Penal Code and that they should be detained for 7 days – all because of some PSM leaflets and communist-inspired T-shirts?
No we are not! We are only surprised when the judiciary, on the very few occasions actually acts with a backbone, with principles, fairness and justice.
But those days are very, very few and far between. We have to salute judge Hishamuddin Yunus for awarding RM 2.5 million to Malek Hussin, an ex-ISA detainee (judgment has since been overruled, how surprising); ordered the immediate release of two reformasi activists, N. Gobalakrishan and Abdul Ghani Haroon; ruled that the Federal Court panel that heard the Ayer Molek case was illegal and unconstitutional – and more recently that the public has a legitimate expectation to know how water tariffs are determined. He was of course the lone and dissenting voice in the Court of Appeal. How surprising again.
Although he must be leading a very lonely existence in the judiciary, I am sure he must be standing tall. I wonder what he thinks about this case?
—————
Judge throws out PSM application
Athi Shankar, June 30, 2011, Free Malaysia Today.com
GEORGE TOWN: The Penang High Court today dismissed an application for a judicial review of a seven-day remand obtained by police on 30 Parti Sosialis Malaysia (PSM) members.
High Court Judge Zamani Abdul Rahim said the police had complied with all requirements under Section 117 2(b) of the Criminal Procedure Code (CPC) to remand the suspects.
He said the police were right to obtain the remand order from the Butterworth Sessions Court last Sunday as the offence of waging war against the King was a serious crime.
Zamani, however, issued a directive to the police to allow families of detainees to visit them.
Sungai Siput MP Dr D Micheal Jeyakumar, PSM deputy chief M Saraswathy and a bus driver known as Selvam were among the 30 arrested at the Sungai Dua toll plaza in North-South Expressway at 4pm last Saturday.
Also in the group were a teacher, four students and five women above the age of 50. They made an application for revision of the remand order under Section 323 of the CPC.
PSM secretary-general S Arutchelvan, Jeyakumar's wife Rani Rasiah and other family members of those detained were present at the court hearing.
Zamani heard arguments from the detainees' defence counsel and the prosecution for two hours yesterday.
No evidence
The defence contended that police did not have material evidence to investigate them under Section 122 for allegedly waging war against the King.
The PSM members alleged that police failed to comply with requirements under sub-section 117.2(b) of the CPC.
Under the sub-section, police can remand a person for a week if the offence carried a jail sentence of 14 years and above, and life imprisonment upon conviction.
However, the defence argued that police did not seize from them any firearms, ammunition, explosives or any other weapons necessary to wage a war against the King.
Even if they were being investigated, the case should be for an offence that carries a sentence below 14 years.
Hence, they argued that their remand order should be under sub-section 117.2(a) of CPC which allowed only a four-day remand.
The detainees' legal team comprised senior lawyer CV Prabakaran, Ranjit Singh Dhillon, Agatha Foo, Karen Lai, V Parthipan, Sukinder Pal Singh, C Ravi Chander, Rowena Nair, RSN Rayer, VS Raventharan and Jason Ong.
The prosecution team was senior deputy public prosecutors Wahab Mohamed and Suhaimi Ibrahim.