LFL Rantings:
The demonisation of Bersih and Ambiga is continuing. The police arrest, intimidation and harassment are continuing, and they are not keeping an atmosphere of peace but of an emergency. Do not forget that the police are still detaining 6 PSM activists including MP Dr. Jeyakumar under the Emergency Ordinance which is no different from the ISA. And more than 150 people have been needlessly arrested.
The police are certainly not helping with the reconciliation effort as appealed by the King and former Prime Minister Abdullah Badawi.
How on earth can the police ban the colour yellow and arrest the Rakyat who are wearing yellow?
What kind of Polis Di Raja Malaysia when they can't adhere to the King's simple wishes.
The King should call on the IGP to explain himself.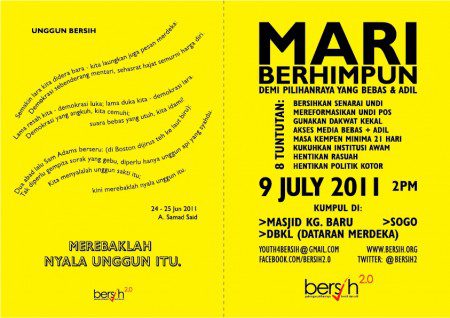 Police to investigate Ambiga's foreign funds
July 4, 2011, Bernama


The IGP says that they will work with Bank Negera on allegation that the Bersih leader used a local bank to receive funds from foreign NGOs.
KUALA LUMPUR: The police have begun investigations into an allegation that Bersih 2.0 chairman S Ambiga used a local bank account to receive funds from several foreign non-governmental organisations (NGOs).
Inspector-General of Police Ismail Omar said today the police would work together with Bank Negara to investigate the allegation.
"We will investigate anyone who has elements which indicate something that could jeopardise the public peace," he told reporters after launching the Command Post Exercise for the police and the armed forces here.
A local newspaper today reported that the bank account, one of five belonging to Ambiga, a former Bar Council chairman, had received hundreds of thousands of ringgit, via foreign funds.
According to the report, the bank was chosen by Ambiga and foreign NGOs "to realise their plan to cause chaos to Malaysia" because a part of the bank's shares was owned by an opposition leader.
Commenting on the Yang di-Pertuan Agong's statement yesterday which reminded the people to ensure the demand for democracy would not bring destruction to the country, Ismail urged the public to abide by the statement.
"As Malaysian citizens, we must give attention to the Seri Paduka Baginda's statement as a guidance to be followed to maintain the country's peace and harmony," he said.
Ismail said the police would take action against anyone who broke the law, especially involving the scheduled illegal assembly.
Meanwhile, Bukit Aman Deputy Director of Management (Public Relations) Assistant Commissioner Ramli Mohamed Yoosuf said the police had received 4,000 reports on the scheduled rally, so far.
He said, of the 220 people detained, 170 were released. The rest were remanded to facilitate investigations.
– Bernama