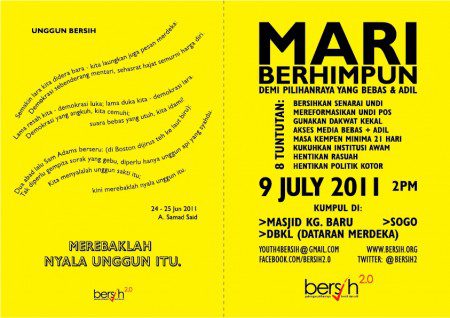 KUALA LUMPUR, 5 JULY, 2011: Some 50 individual held a candlelight vigil outside the Federal police head quarters (Bukit Aman) here tonight in calling for the release of six Parti Sosialis Malaysia (PSM) activists who have been detained under the Emergency Ordinance (EO).
The group gathered there at 8:15pm and included family members of the six activists, politicians, Suara Rakyat Malaysia (Suaram) and Lawyers for Liberty members.
PSM chairman Dr Mohd Nasir Hashim, speaking to reporters at the scene, said PSM had submitted a memorandum to the Human Rights Commission of Malaysia (Suhakam) on the detention of the six and sought the police's cooperation to release them immediately.
The group dispersed peacefully about an hour later.
The six PSM members detained under the EO include Sungai Siput Member of Parliament Dr Michael Jeyakumar.
They were among 30 people who were arrested at the Sungai Dua toll plaza in Kepala Batas on Saturday while heading to Penang on a bus.
They were detained for suspected involvement in subversive activities.
Of the remaining 24, 21 have been charged at the Butterworth Magistrate's court while three were released unconditionally.
The EO allows for detention without trial up to 60 days.
– Bernama