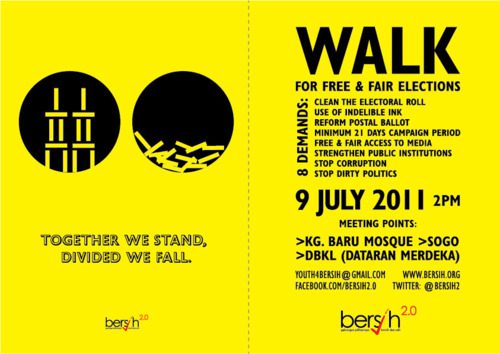 PETALING JAYA, July 5 — Lawyers representing women's rights group Empower chief Maria Chin Abdullah said her questioning today by the police is purely to intimidate and harass the Bersih movement.
Lawyers Fadiah Nadwa Fikir and Honey Tan, who are representing Maria, told reporters that police informed them that they were investigating Maria under the Societies Act.
"It has nothing to do with the Societies Act and they are using this to intimidate and to harass the Bersih movement," said Fadiah.
Maria (centre) speaking to reporters outside the Petaling Jaya police headquarters after her questioning today, July 5, 2011. — Picture by Choo Choy May
Empower is a member of Bersih 2.0, a coalition of NGOs which has come under intense pressure to call off the July 9 rally in support of electoral reform.The Empower office in Section 4 here was raided on June 29 and, according to Maria, the police turned up without a warrant.
The police seized Bersih T-shirts and banners during the noon raid carried out by some 20 policemen, at least one of whom was armed with an assault rifle.
Maria said among other things, the police asked about her background, Empower, and in whose names the office water and electric bills were.
"Based on the questioning, it is really ridiculous; why do you need to know whose name is on the bills?" said Fadiah.
Fadiah also said the police wanted to take both her and Tan's statement during the questioning.
"That is interference with lawyers' duty and a breach under the Article 5 of the Federal Constitution and under section 28a of Criminal Procedure Code.
"They have no right to interfere with Maria's right to have a lawyer with her during the questioning," she said.
Maria said the seven people detained at the Empower office on June 29 have also been called for questioning at the police station tomorrow.
By Melissa Chi and Lisa J. Ariffin
July 05, 2011, The Malaysian Insider