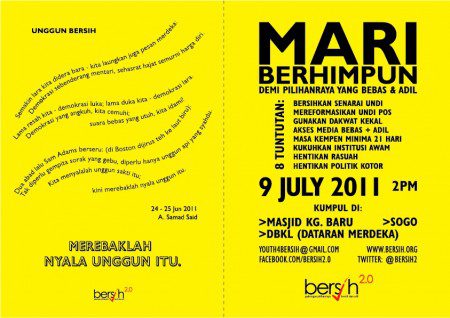 Bersih 2.0 is disappointed in the manner in which the Prime Minister and his cabinet has reneged on their offer to provide a stadium for us to hold our peaceful gathering.
As members of civil society that are committed to principles of integrity, we fully intend to abide by the advice of Tuanku DYMM SPB YDP Agong and hold our gathering in a stadium to state our demand for clean and fair elections.
We have chosen Stadium Merdeka as the best venue for this event, due to its symbolic nature and central location, and we will not for one moment be swayed from our decision to gather there peacefully.
If the Prime Minister is a man of his word, he will make the appropriate arrangements for the event to proceed peacefully at Stadium Merdeka.
Whether or not the government abides by their principles, we the Malaysian people will always uphold ours. Our determination to exercise our constitutional right to gather peacefully for a just and reasonable cause is unwavering.
Recent statements by the Deputy IGP seem to indicate that the police fully intend to take action against us if we do anything on July 9th beyond staying at home.
However, patriotic Malaysians who want nothing but the ability to choose our leaders through genuinely democratic means will never be cowered by the unjust and immoral exercise of power. Our first and foremost responsibility is to our future and our children, and we have resolved that they shall inherit a nation ruled by not by fear, but by the principles of justice.
Whatever happens between now and then, the rakyat will gather peacefully in an orderly fashion to call for clean and fair elections at Stadium Merdeka on the 9th of July at 2pm. We are coming, we will be peaceful and together, we will build a better Malaysia.
Released by
Steering Committee
Coalition for Clean and Fair Elections (BERSIH 2.0)
The members of the BERSIH 2.0 Steering Committee are:
Dato' Ambiga Sreenevasan (Chair), Andrew Khoo, Arul Prakkash, Arumugam K., Dr Farouk Musa, Haris Ibrahim, Liau Kok Fah, Maria Chin Abdullah, Richard Y W Yeoh, Dr Subramaniam Pillay, Dato' Dr Toh Kin Woon, Dr Wong Chin Huat, Dato' Yeo Yang Poh dan Zaid Kamaruddin.
*
BERSIH 2.0 akan berlangsung di Stadium Merdeka pada 9 Julai 2011
Bersih 2.0 kecewa dengan tindakan Perdana Menteri dan Kabinetnya yang mungkir janji untuk sediakan stadium bagi kami untuk mengadakan perhimpunan aman.
Sebagai anggota masyarakat sivil yang komited kepada prinsip-prinsip integriti, kami berhasrat untuk mematuhi nasihat Tuanku DYMM SPB YDP Agong dan mengadakan perhimpunan dalam stadium bagi membuat tuntutan kami untuk pilihanraya yang bersih dan adil.
Kami telah memilih Stadium Merdeka sebagai tempat terbaik untuk acara ini kerana ia amat simbolik dan berlokasi pusat, dan kami akan tetap berdiri teguh kepada keputusan kami untuk berhimpun secara aman di sana.
Jika Perdana Menteri seorang yang jujur, beliau sepatutnya membuat persediaan yang sesuai supaya perhimpunan ini berjalan secara aman di Stadium Merdeka.
Sama ada kerajaan mematuhi prinsip-prinsip mereka, kami rakyat Malaysia akan sentiasa mematuhi prinsip-prinsip kami. Keazaman kami untuk melaksanakan hak kami untuk berhimpun secara aman bagi tujuan yang adil dan munasabah tidak akan tergoncang sama sekali.
Kenyataan baru-baru ini oleh Timbalan Ketua Polis Negara seolah-olah menunjukkan bahawa polis berhasrat untuk mengambil tindakan terhadap kami sekiranya kami berbuat apa-apa pada 9 Jul selain duduk di rumah.
Walau bagaimanapun, rakyat Malaysia patriotik yang hanya inginkan keupayaan memilih pemimpin-pemimpin kita melalui cara demokratik dan halal tidak akan ditakuti oleh pelaksanaan kuasa yang zalim dan tidak bermoral. Tanggungjawab kita yang paling penting adalah untuk masa depan dan anak-anak kita, dan kami berhasrat untuk pastikan mereka mewarisi negara yang bukan diperintah oleh ketakutan, tetapi oleh prinsip-prinsip keadilan.
Apapun yang berlaku antara sekarang dan 9 Julai, rakyat akan berhimpun secara aman dan teratur untuk menuntut pilihanraya yang bersih dan adil di Stadium Merdeka pada 9 Julai, pukul 2 petang. Kami akan datang, berhimpun secara aman dan bersama-sama kita akan membina Malaysia yang lebih baik.
Yang benar,
Jawatankuasa Induk
Gabungan Pilihan Raya Bersih dan Adil (BERSIH 2.0)
Jawatankuasa Induk BERSIH 2.0 terdiri daripada:
Dato 'Ambiga Sreenevasan (Pengerusi), Andrew Khoo, Prakkash Arul, K. Arumugam, Dr Farouk Musa, Haris Ibrahim, Liau Kok Fah, Maria Chin Abdullah, Richard YW Yeoh, Dr Subramaniam Pillay, Dato' Dr Toh Kin Woon, Dr Wong Chin Huat, Dato 'Yeo Yang Poh dan Zaid Kamaruddin