Cease Intimidation, Free Detained Activists
(Bangkok, July 14, 2011) – The Malaysian government should launch a prompt, impartial, and transparent investigation into the use of excessive force and unwarranted arrests by the security forces during a march for electoral reform in Kuala Lumpur on July 9, 2011, Human Rights Watch said today. The government should cease threats and intimidation against the march's sponsor, the Coalition for Clean and Fair Elections (Bersih), and release all those still detained for exercising their rights to free expression, association, and assembly, Human Rights Watch said.
"The Malaysian authorities' crushing of Bersih's march shows that when basic liberties compete with the entrenched power of the state, the government is quick to throw respect for rights out the window," said Phil Robertson, deputy Asia director at Human Rights Watch. "Apparently in Malaysia, freedom of speech, assembly, and association are only permissible when they support the government."
After the government reneged on a compromise that would have allowed a Bersih rally in the main Merdeka Stadium in Kuala Lumpur, Bersih supporters on July 9 took to the streets in a peaceful, well-ordered march. Malaysian security forces responded with water cannons, extensive use of teargas, manhandling of protesters, and 1,697 arrests. Video footage from the media shows the security forces making unprovoked attacks on the marchers.
Prime Minister Najib Razak and Inspector General of Police Ismail Omar denied that the security forces attacked first, however. Home Affairs Minister Hishammuddin Hussein on July 11 threatened action against domestic and international media for what he characterized as "baseless claims."
Since June, Bersih has sought to deliver a petition to Malaysia's king outlining its eight proposed election reforms, including free and fair access to the mainstream press, a minimum 21-day election campaign period, and a cleanup of the electoral rolls. The government has responded with a campaign to discredit the coalition and deter participation in its activities.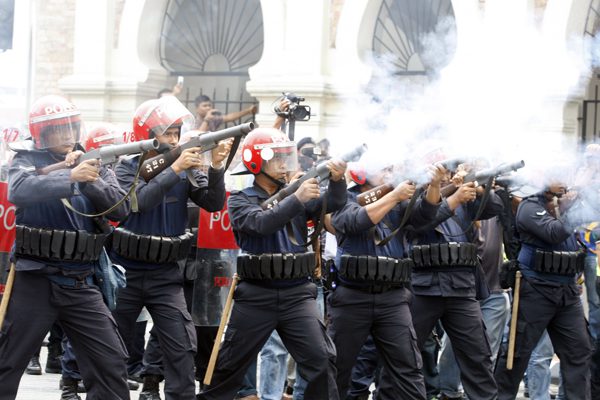 The United Nations Basic Principles on the Use of Force and Firearms by Law Enforcement Officials calls upon law enforcement officials to, as far as possible, apply nonviolent means before resorting to force. Whenever the lawful use of force is unavoidable, law enforcement officials are to use restraint and act in proportion to the seriousness of the offense.
Although all those arrested on July 9 were released later that evening, Hishammuddin left open the possibility that they could still be charged with criminal offenses. "Of those who were arrested, the AG's [attorney general's] Chambers is currently studying the seriousness of their offenses to determine whether to charge them or not," he said, singling out the Bersih chairwoman, Ambiga Sreenevasan. He also made unsubstantiated accusations against Bersih about involvement with weapons caches and receiving funds from overseas.
Six leading members of the Socialist Party of Malaysia (PSM), who were pulled off their bus on June 25 on the way to a political rally, remain in preventive detention under the Emergency (Public Order and Crime Prevention) Ordinance, which permits the police to hold them for 60 days without charge. Hishammuddin said their detention is connected to a "subversive issue" yet provided no additional information.
"Malaysia's allies should press the government to stop its harassment of Bersih, release all peaceful activists still detained, and engage in a constructive dialogue with election law reformers," Robertson said.
Human Rights Watch urged the government to free immediately and unconditionally the 6 detained Socialist Party members, rescind the charges against another 24 party members already released on bail, and to stop using preventive detention legislation, such as the Emergency Ordinance, against peaceful protesters.
In addition to pre-rally arrests of the Socialist Party members, the government invoked the Societies Act, the Sedition Act, the Police Act, and the Printing Presses and Publication Act to arrest some 270 supporters for wearing or selling Bersih's distinctive yellow T-shirts, printing or possessing Bersih posters, or promoting the coalition's aims at public meetings. Police also raided the Bersih office, seized computers, and arrested staff, and called in organizers and other prominent supporters for interrogation. The government should rescind the Ministry of Home Affair's July 1 determination that Bersih is an illegal organization under the Societies Act, Human Rights Watch said.
Article 10 of the Federal Constitution of Malaysia recognizes the rights to freedom of association, peaceful assembly, speech, and expression that are enshrined in the Universal Declaration of Human Rights. In seeking a seat on the United Nations Human Rights Council, Malaysia pledged in an official communication to other governments on March 9, 2010, that it "reaffirms its full commitment to the promotion and protection of human rights at both the domestic and international levels."
"The Malaysian government's promise to fulfill its international obligations as a UN Human Rights Council member faces an acid test in the coming days and weeks," Robertson said. "Malaysia's international friends need to let Prime Minister Najib know that he is leading his country down the wrong path."
For more Human Rights Watch reporting on Malaysia, please visit:
http://www.hrw.org/en/asia/malaysia
For more information, please contact:
In Bangkok, Phil Robertson (English, Thai): +66-85-060-8406 (mobile); or [email protected]
In New York, Mickey Spiegel (English): +1-212-216-1229; or [email protected]
In London, Brad Adams (English): +44-0-7908-728333 (mobile); or [email protected]