Protests in Malaysia over asylum swap deal
Lawyers and activists in Malaysia accuse Australia of being irresponsible in sending asylum-seekers to Malaysia.
http://www.sbs.com.au/news/radio/episode/179661/Protests-in-Malaysia-over-asylum-swap-deal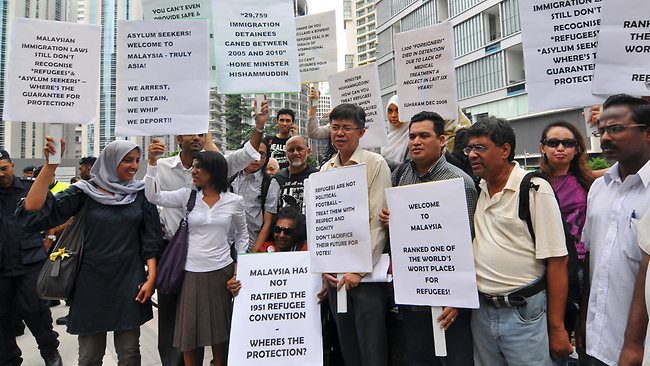 Activists protest outside the venue of the signing ceremony of on agreement on transfer and resettlement in Kuala Lumpur, Malaysia 25 July 2011. AAP (AAP)
Under a deal signed on Monday, Malaysia will take 800 boat arrivals in return for Australia accepting four-thousand refugees over four years.
Activists from a number of rights groups protested outside the Kuala Lumpur hotel where the deal was signed.
They say they're concerned about the lack of laws in Malaysia protecting refugees and accuse Australia of failing to protect the rights of asylum seekers being sent to Malaysia.
Spokeswoman for Lawyers For Liberty Latheefa Koya told Manny Maung, there's also conncerns over the lack of transparency in Malaysia regarding the deal.